BatchPurifier LITE™ is a free edition of BatchPurifier™ that can remove metadata from JPEG picture files in batch. BatchPurifier LITE™ is able to thoroughly remove JPEG metadata such as EXIF (including thumbnail & geotag), Photoshop image resources (including IPTC), XMP, comments, ICC Profile, and other hidden data types while keeping the JPEG image intact and without degrading its quality.
This metadata often contains information such as the exact date and time the photograph was taken, the digital camera manufacturer, model, and unique serial number, the camera settings, and the location (if GPS-enabled camera was used). Furthermore, a thumbnail of the image often exist in the JPEG file, and many image manipulation software fail to update this thumbnail when the original image is modified. So even if the image was cropped, or otherwise modified to hide certain parts in it, the removed parts may still be visible in the thumbnail.
With BatchPurifier LITE™ you can prevent the unintentional exposure of this information that may compromise your privacy and cause you embarrassment.

Freeware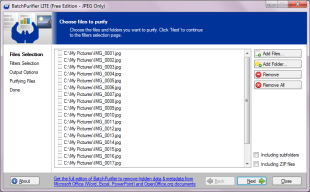 BatchPurifier LITE™ can do the following:
Remove EXIF (including thumbnail & geotag)
Remove IPTC data
Remove XMP data
Remove JPEG comments
Remove ICC profile
Remove Adobe APP14 tag
Remove JFIF header
Remove other hidden data