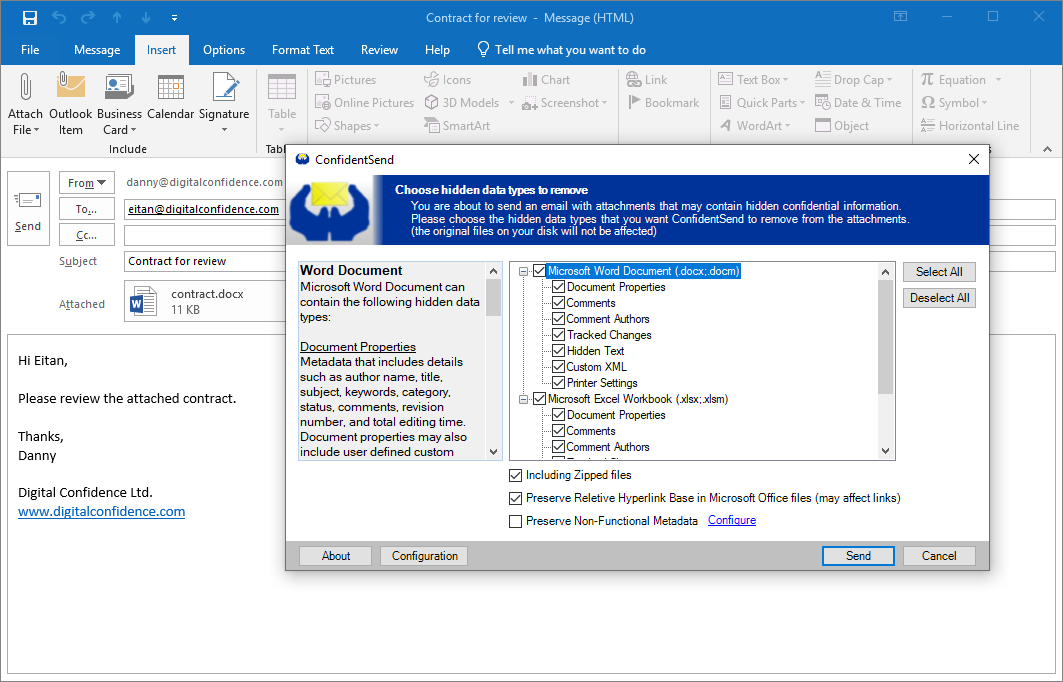 ConfidentSend™ is the most comprehensive, user friendly and fast solution for removing hidden data & metadata from email attachments on the fly, right before you send them with your email client.
ConfidentSend™ can remove hidden data from Microsoft Office® documents (Word, Excel, PowerPoint), OpenOffice™ documents, PDF documents, and popular image and media file types such as JPEG, PNG, and SVG. ConfidentSend™ can remove hidden data from files even if they are compressed within ZIP files.
Hidden data stored in these file types may contain confidential and private information that when exposed can cause you and your organization embarrassment with possible financial and legal implications.
ConfidentSend™ seamlessly integrates with Microsoft Outlook® or with Mozilla Thunderbird™ 60-68 email clients, inspects and cleans the attachments of each and every outgoing email. ConfidentSend™ also warns the user when sensitive content is found in the email message and its attachments.
With ConfidentSend™ you can free yourself and your organization from the worry of unintentional sensitive data leakage through the hidden data stored in email attachments.